Caffeine has the ability to enhance the productivity of an individual and coffee is no doubt the best source of caffeine. Many researchers have found that consuming one to two cups coffee daily can increase alertness and brain performance.
It is also found that consumption of coffee in daily basis can improve memory resulting in lower chances of workplace accidents. Sticking 8 hours behind the computer screen isn't an easy job. Jobs were never luxuries and everybody makes a lot of effort to stay dedicated for hours.
You need something to fuel yourself and coffee can do it in a better way.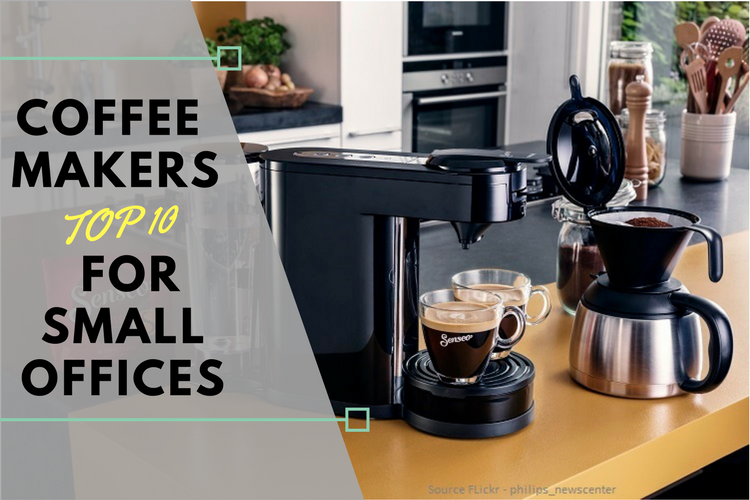 Before bringing a coffee maker for your office firstly consider the amount of coffee required in your office. Such as if you are the king of your small office then there will be few coffee drinkers and a traditional home coffee maker for your small office business will be enough but if you are the king Alexander and own a huge corporate office then you have to invest in a heavy-duty commercial coffee maker to fulfill the demand of coffee throughout the working hours.
Today in this post I have compiled a list of top 10 coffee makers for your small business office. Many of these amazing coffee makers can be bought from the UK, all you need is a UK parcel forwarding account.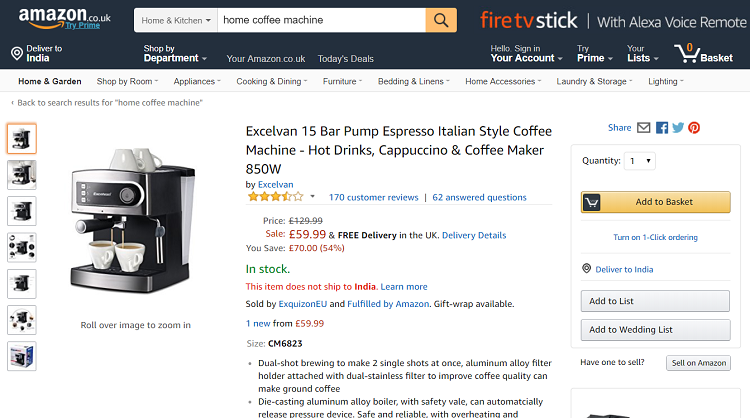 Coffee is little addictive in nature and with this dual shot brewing coffee machine you can manage to keep the regular supply of coffee for your office staffs.
No matter if your small office's coffee drinkers love espresso, lattes or cappuccinos, this machine can make quality coffee of multiple flavors in minutes. Its boiler is made of die casting Aluminum alloy which ensures the superior safety of the beverage.
Product Specifications:
Product – Coffee Maker
Brand – Excelvan
Beverage Slots – 2
Filter – Dual
Water Tank – 1.6L
Interface – Buttons
Status Indicator Lights – Yes
Item Weight – 9.7 Pounds
This coffee maker will produce enough cups of coffee for few of your office staffs and due to dual beverage slots, there will be no World War for coffee in your small business office.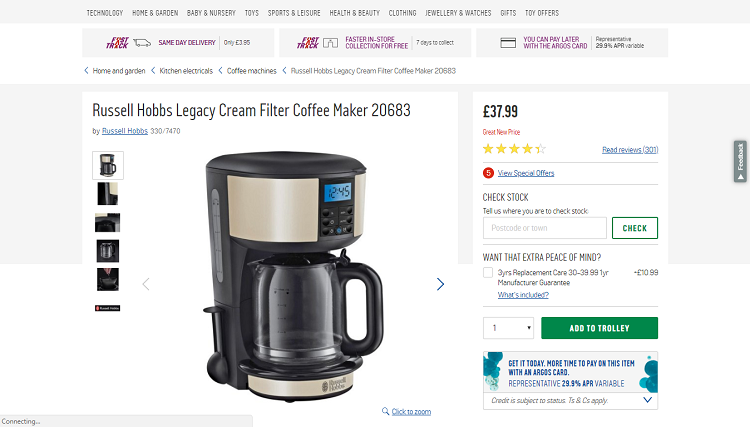 You already haven't much space for your office appliances in your small office and it will be really impossible to find room for a huge coffee machine. Go for small and bring this Russell Hobbs coffee maker for your small office.
This coffee maker is small enough to fit in little space and is capable of keeping a continuous supply of coffee. The Russell Hobbs coffee machine is built with showerhead technology which makes your coffee taste better.
Product Specifications:
Product – Coffeemaker
Water Capacity – 1.25 L
Power Output – 1000 Watts
Water Gauge – Yes
Filter – Yes
Hotplate – Thermostatic
Warm Function -Yes
Timer – Yes
No of cups at a time – 10 cups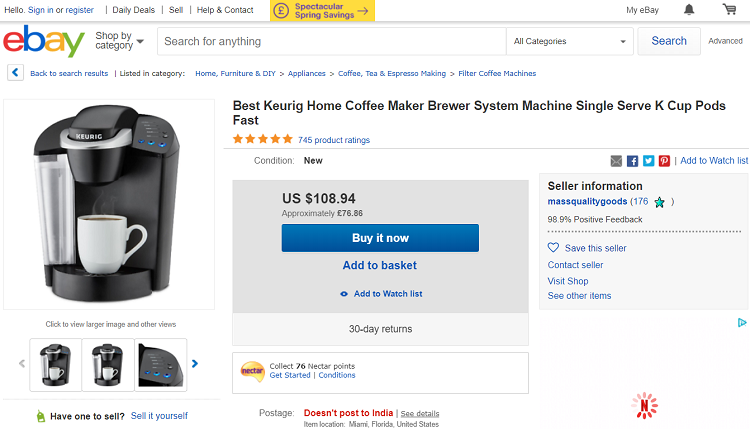 A cup of a quality beverage can make your morning better and with this machine, you can make your every morning best. It brews the beverage at the optimal pressure level and temperature.
The removable water tank is easy to remove and clean whenever you want helps you in maintaining better hygiene. Its removable drip tray lets you use larger cups such as brew size of 6, 8 and 10 ounces. Enjoy coffee, hot cocoa, tea and more with just a few touches of the button.
Product Specifications:
Product – Coffee Maker
Water Capacity – 48 Ounces
Power Output – 1500 Watts
Machine Type – Brewing Machine
Removable Drip Tray – Yes
Brew Sizes – 6, 8 and 10 Ounces
Interface – Button
No of cups at a time – 4 cups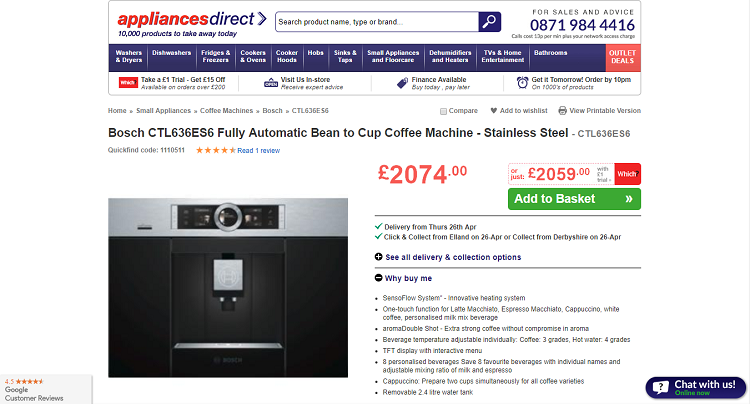 Are you searching for a high-end coffee maker for your small business office? Then this Bosch coffee maker will be perfect for the requirements you are looking for.
This brewing machine is a smart device and can function wirelessly through an app. The parts are easily removable which makes cleaning easier. Its steam blast technology is an automatic stem cleansing process of the milk.
The Bosch coffee maker consists adjustable grinder and bean container to preserve the aroma and essence of the coffee beans after grinding. The smart child lock feature inhibits the chances of unintended use.
Product Specification:
Product – Coffeemaker
Brand – Bosch
Heating Technology – SensFlow
User Interface – Touch Interface
Display – TFT Display
Water Tank – 2.4L
Connectivity – Wireless
Power Output – 1600 Watts
Bean Container Capacity – 500 Grams
Additional Features – Steam Blast, Child Lock, Early Warning, Self Adjustable Grinding Unit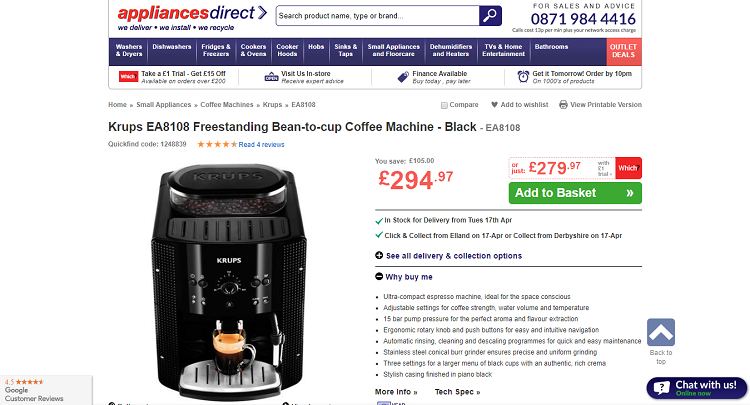 Bosch coffee machine is a smart and heavy duty high-end machine and will acquire more space in your small office. You can't afford to provide huge space for a coffee machine but you also like the extraordinary features of the previous coffee maker.
What will you do now? Are you looking for a comparatively small and low-cost coffee machine having grinding feature too? Don't worry I have listed one here.
The Krups coffee maker comes with 275 grams of bean container and 1.8L water tank. Stainless steel powerful grinder ensures uniform and precise grinding.
Product Specification:
Product – Coffee Maker
Water tank – 1.8L
Bean Container Capacity – 275 Grams
Grinder Type – Burr Grinder
User Interface – Push Buttons and Rotary Knob
Cleaning – Self Automated Rinsing and Cleaning
Product Color – Black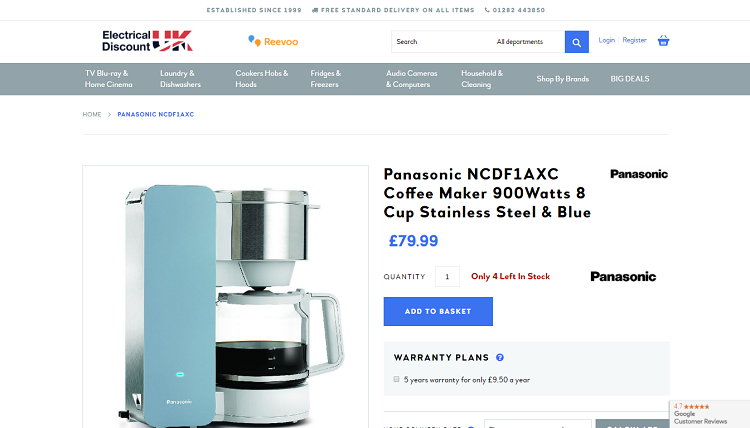 Coffee can boost productivity and it is one of the must-have office gadgets. This beverage is consumed almost all over this blue planet and comes in multiple flavors.
Consuming coffee twice a day will be great but one should maintain 100% hygiene when it comes to kitchen appliances. This Panasonic coffee maker is made of high-quality stainless steel which is also very easy to clean. If your kitchen appliances and utensils are clean and germ-free then there are low chances of getting affected by bacteria and germs oriented health diseases.
Product Specifications:
Product – Coffee Maker
Brand – Panasonic
Power Output – 900 Watts
Water tank – Stainless Steel
Water Tank Capacity – 2.8L
Coffee Type – Ground Coffee
No of Cups at a Time – 8 Cups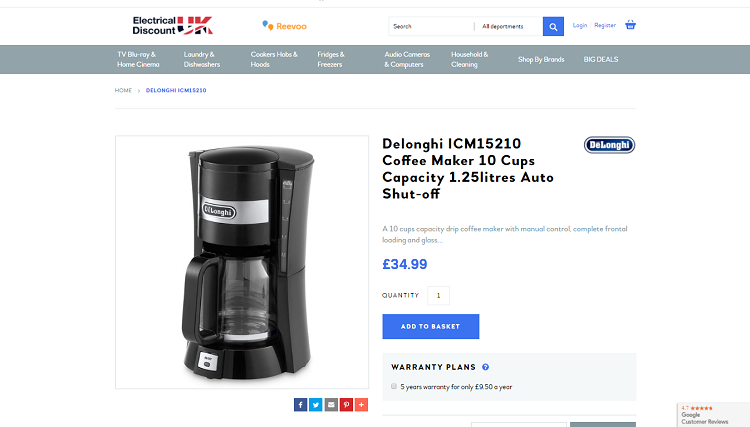 Delonghi is well known for its quality kitchen appliances and this coffee maker is built to provide an uninterrupted supply of caffeine.
Due to its sophisticated look and design, it will grab more attention than other office appliances. It works best and looks best too. Small and light enough to fit in small space make it perfect for small business offices. With the LCD display and button control panel, brewing espresso is going to be very easy.
Product Specification:
Product – Coffee Maker
Brand – Delonghi
Water Tank – 1.25L
Display – LCD
Carafe – Glass
Filter Type – Paper Filter
Controls – Buttons
Input Power – 900 Watts
No of Cups at a Time – 10 Cups
Additional Features – Manual Controls, Auto Shut Off, Cord Storage, Non-Slip Feet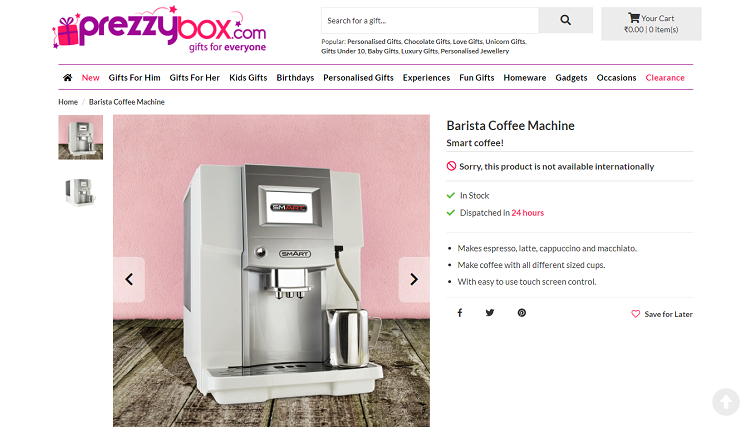 Coffee is one of the most consumed beverages in the world and you should invest in buying a good coffee maker. No matter if you are the boss of your small home office or having a small business office in a busy corporate world you need something to be more productive and coffee will be the best ingredient.
Breaks can also boost the productivity of yours and your employees and if it will be a coffee break then it is really to work. Bring this Barista coffee maker for your team and provide them a reason to make their break worthy.
Product Specification:
Product – Coffee Maker
Brand – Barista
Coffee Container Capacity – 250 Grams
Milk Frother – Yes
Control Panel – Touch Screen
Make espresso, cappuccino, macchiato, and latte in just a few touches and enjoy your coffee.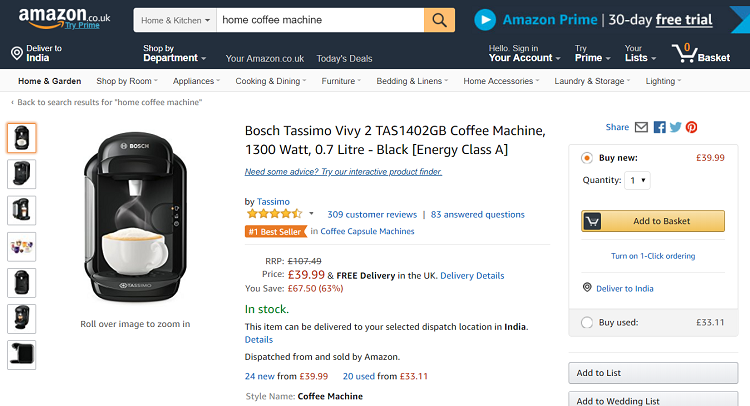 This Bosch Tassimo coffee maker is built brilliantly to provide great cups of coffee overloaded with the addictive aroma. Its compact design has automated decaling and cleaning feature.
Its removable drip tray and adjustable head let you fill your beverage in travel mugs and tall latte glasses. This coffee maker heavy-duty with 5 LED status monitoring lights which help its users in brewing coffee effortlessly.
Product Specification:
Product – Coffee Maker
Brand – Bosch (Tassimo)
Water Tank Capacity – 0.7L
Auto Cleaning – Yes
Power Output – 1300 Watt
Drip Tray – Removable Stainless Steel
User Interface – Button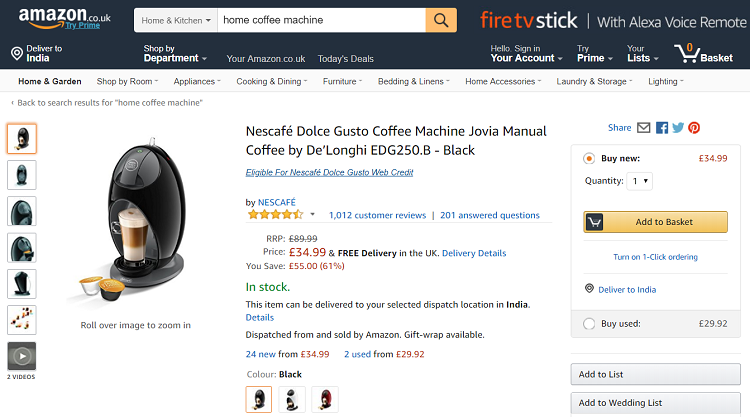 Start your day with a cup of Nescafe coffee extracted from a Nescafe coffee maker. This coffee maker is built with awesome design and will grab more attention no matter whether it is at your office or home.
Smart, compact and elegant machine will help you in keeping an uninterrupted supply of coffee. Weighing just 2.5 Kg, this machine can be easily fit in small spaces.
Product Specification:
Product – Coffee Maker
Brand – Nescafe
Water Tank Capacity – 0.8L
Power Output – 1500 Watts
Color – Black, White, Red
Removable Tank Yes
Final Note:
Tea is the most consumed beverage in the world and the second is coffee. Regular consumption of coffee has a lot of health benefits and it is also very good for our mental health.
Coffee beans are loaded with numerous antioxidants which play important role in proper functioning of the brain. Coffee is just simply great and you must bring a coffee maker for your small business office. The caffeine will help you and the team members to stay focused, dedicated and innovative during working hours.