A well-designed and well-decorated home has been your aspiration since you purchased a new home.  For long, you have been toying with the idea of sprucing it up. You see sample pictures and layouts and you save them for a later date. But the longer you wait, the higher the costs spiral. To avoid further troubles like shortage of labour or raw material, you feel the need to act fast. But you are worried you may run out of funds. In this situation taking a loan will be the best way to finance my home improvement projects.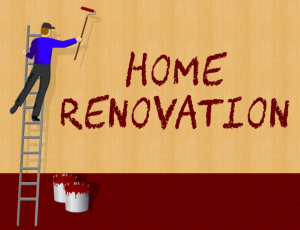 How Home Renovation Loans Work
A Home Renovation Loan gives homeowners access to funds needed to fix their home. These renovation loans can come in the form of mortgages with built-in fixer-upper funding or Personal Loans. Depending on the type of loan you receive, you may need to show proof that the money was spent on the house or paid to a contractor.
Advantages of A Personal Loan For Home Renovation
Instant Approval: With everything online now, applications for a Personal Loan can be sent through the lender's website. Once submitted, you can get approval within 5 minutes of your Personal Loan application.
Money in bank in 24 hours: After your application is verified by the lender, you can receive your loan within just 24 hours.
Loans up to Rs.25 lakh: You can kick-start your home renovations with a loan up to Rs.25 lac. Now, you can re-decorate your home without worrying about running out of cash.
Minimal Documentation: Your lender will check your eligibility criteria and decide what documents you will require for your application.
Flexible Tenor: Once you decide on the amount you need, you can choose from 24 to 60-month tenors and repay it at your convenience.
Pre-Approved Offers: You may also be eligible to receive pre-approved offers and deals on your Personal Loan for home improvement.
Collateral-Free Loan: A Personal Loan is an unsecured loan that can be taken for reasons that need not be stated. Typically, these loans are collateral-free for your convenience.
No Hidden Charges: To know about all the charges, all documents related to your loan need to be read very carefully before you decide.
Online Account Management: You can access your loan accounts online. All things related to your loan can be managed while you sit in your balcony sipping tea watching the sunset.
Tips for Choosing a Personal Loan
Understand your monthly budget
Assess your future financial prospects
Consider existing liabilities
Calculate the Personal Loan interest rates involved
Use an EMI Calculator
Assess the Lender
Once you have zoomed in on the Home Renovation Loan amount and tenor, study the lender in detail. Look for the one that offers you the best deal. Search for the ones that offer you lower processing fees and those with a track record of quick loan disbursal.
Conclusion
Redesigning a home is a dream that everyone sees at least once in their lifetime. Instead of draining all your savings behind this, you can choose to go for a loan. Longer repayment tenors and other attractive features make sure you get the home you love within your budget