To get the goods delivered from one place to another company make use of Shipping containers. Shipping containers serve the purpose of keeping the products safe and providing them without unloading and reloading. These containers are also used to store the goods protecting them from moisture, heat, and other external forces.
The containers can be easily purchased from retailers, but one could get the best deals online. Several online platforms sell different types of shipping containers ranging from new to used and from significant to small. There are also various types of these containers depending upon the material they are made up of.
DIFFERENT TYPES OF SHIPPING CONTAINERS
 OPEN TOP CONTAINERS
These types of containers come with a removable opening which is either hard or soft. Hardtops are made of steel, while the soft ones are manufactured using tarpaulins. Steel is preferred for the walls of this type of containers. Using open top containers gives the advantage of strong walls since they remain intact and the entering and exiting process is carried out via the roof. These containers are majorly used to load dry cargo.
HIGH CUBE CONTAINERS
As the name suggests, these containers are enormous with a relatively more top height. These containers are airtight as well as watertight, thus safe from humidity and moisture. If the user needs extra head space in the closed environment, then he/she must prefer high cube containers. May it be industrial or commercial, residential or mini business; these containers can be used anywhere.
FREEZER CONTAINERS
These types of containers are subjected to a shallower temperature. To protect the objects within the container from freezing, they are adequately insulated. For safety, they come with a cooling compressor which maintains the temperature between -25 to +25 degree Celsius. These containers are commercially known as reefer containers. These containers are a better alternative to building an entire cold room. They are cost effective and more reliable. Hence, to transport and store temperature-sensitive objects, one must make use of these containers.
CORRUGATED BOXES
These boxes widely used for shipping constituting to 90% of the total shipping containers. Its best feature is the fact that it is recyclable. In addition to being eco-friendly, it is also lightweight and robust which pretty much satisfies the ideal condition of a shipping container.
CRATE/WOODEN BOX
As the name suggests, these containers are made up of wood. They are formerly heavy and are also used to store bulky items. The best example of the application of the wooden box is for storing military equipment.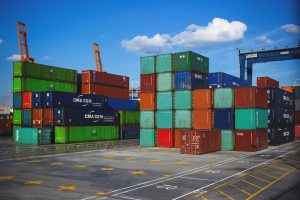 Usually, it is human nature to dislike interference of anything in their lives, but the things we need in our day to day lives won't be able to reach us safely without the interference of these containers. They act as a protective shield that will safeguard as well as separate the client's goods from others.  Shipping containers are pocket-friendly as well as user-friendly and available in a wide range of varieties.