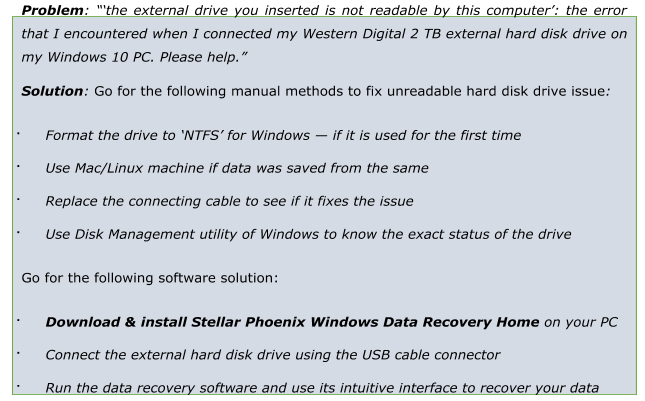 Today, when I connected my Western Digital 2 Terabyte external hard disk drive to my Windows 10 computer it threw the following error:
'The external drive you inserted is not readable by this computer'
At first, I thought the error might have occurred due to improper connectivity of my external drive to the PC, so I reconnected the drive and restarted the PC to resolve the issue. To my surprise, the problem still existed, and I have no words to express my anguish.
Do not panic. Try to figure out what exactly is the cause behind such error. Here is the most common problem that users face while using there external hard disk drive.
The reason for such a message can be:
The external hard disk drive is new and is not formatted to any file system

Solution: Format the drive to the NTFS file system mandatory for Windows.

The external hard disk drive has file system that is not recognized by Windows such as the file system of Linux (EXT/EXT2/EXT3) or Mac (APFS, HFS+).

Solution: Open the drive in the right computer with compatible files system

The external hard disk drive may have faulty cable connection that do not allow connectivity to PC.

Solution: Replace the USB connecting cable that connects the external hard disk drive to your Windows computer.

The external hard disk drive might have logical damage

Solution: Use Disk Management utility in Windows to check whether the drive is recognized, has become raw due to corruption of file system, or is not listed.
In case data was stored in the external hard disk drive but is not accessible due to logical damage, then go through the following software solution:
Download & install

Stellar Phoenix Windows Data Recovery Home

on your PC

Connect the external hard disk drive using the USB cable connector

Run the data recovery software by double clicking on the software's icon

Select what to recover in the software's main interface then click the Next button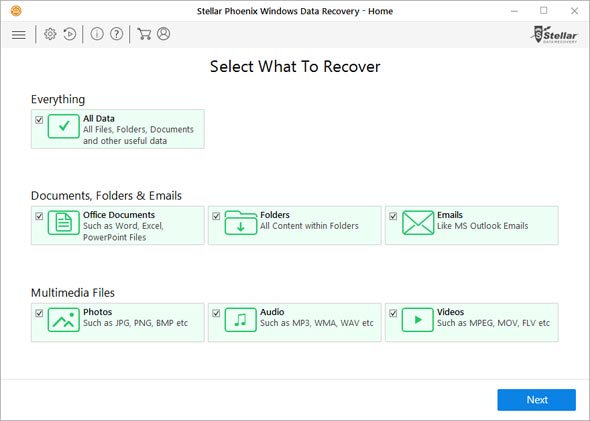 Select location of the external inaccessible hard disk drive then click the Scan button

Preview the scanned items to check for relevance

Select all the necessary items then click the Recover button

Provide the desired location and then click the Start Saving button to save data
Winding Up
This blog presents data recovery method from an external hard disk drive that throws the not readable error. You can start your troubleshooting process from the basic manual method to the more sure shot software recovery method. Whichever method recovers your data is the right one for your current need.